William Wray resides in California. He studied painting at the Art Students League in NY and has made his living for many years as a cartoonist and now paints regional subject matter. He blends abstract expressionism and realism into a realistic expression, which stands as a bridge into the contemporary art world. I came across his work while linking to different art sites and happened
on his blog a few years ago. I became an immediate fan and have been following his expressive and colorful work ever since. His supercharged color sense and light filled compositions drew me into his world. Being an artist myself I could immediately appreciate the depth and commitment he has to his work.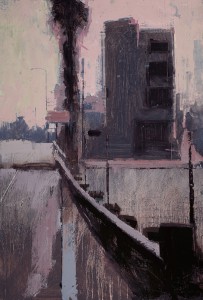 His subject matter is the urban world of strip malls and open vast areas populated with lone buildings and sun drenched streets, all this painted with a keen eye and a sure hand. Check his site and blog, you will not be disappointed.
Site: http://williamwray.com/index.html
Blog: http://williamwray.blogspot.com/                                                                                                Mr. Wray is a member of 'Oil Painters of America' – LAPAPA – California Art Club
Article by Dave Reinbold, Carlisle, PA